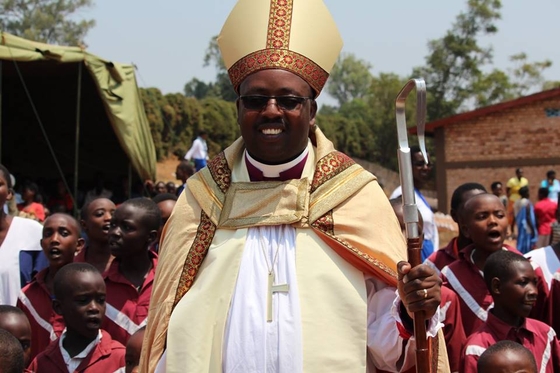 4 Sep 2018 • News
"I have not been chosen because I deserve it more than others nor for my wisdom but because God has entrusted this crucial ministry to me. He enables those He chooses. We trust in him who said that He will always be with us forevermore."
These words were spoken by the Rt. Rev. Aimé Joseph Kimararungu at his installation as the new Bishop of Gitega on 18 August 2018.In the presence of all the Bishops of the Province of the Anglican Church of Burundi and other visitors and guests including some from Rwanda and UK. He succeeded the Rt. Rev. John Wesley Nduwayo and became the second Bishop of the diocese. Bishop Aimé Joseph comes from the area covered by the diocese and knows the Church and community well. He acted as Diocesan Secretary before he was consecrated Bishop Coadjutor in August last year. Married to Benigne Barendegere, Bishop Kimararungu has three children.
He said that he undertook the responsibilities of leading the Diocese of Gitega as a servant ready to work with the community to identify solutions for the challenges they face.
The retiring Bishop, the Rt. Rev. John Wesley Nduwayo extended his gratitude to God for the outcome of the long journey he had had leading the diocese from its beginnings in 1985 when it consisted of two parishes. Among the many things that had been achieved during his 33 years of ministry he identified the establishment of schools, provision of clean water, reforestation of land, support and rehabilitation of survivors of the crisis of 1993, hundreds of literacy circles and savings groups, thousands of people trained to fight against gender based violence, and the establishment of the Dioceses of Muyinga and Buhiga. He apologised for the expectations he was not able to accomplish.
On behalf of the Government, the First Vice President of the Republic congratulated the new Bishop. Gaston Sindimwo expressed the commitment of the Government to support the Church in its mission as it contributes to the development of the country. He said that the Church has a key role to play in the transformation of society.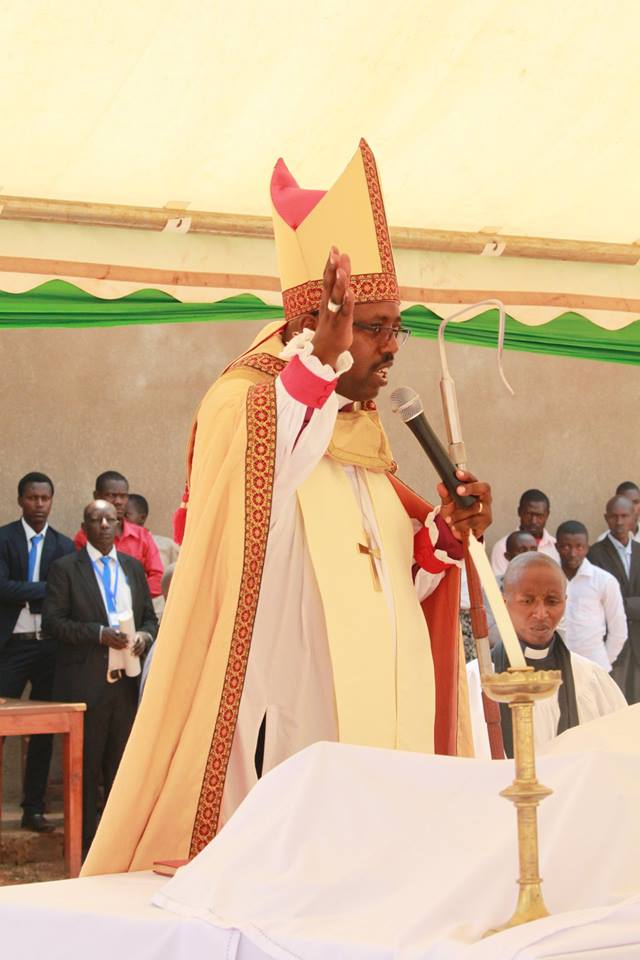 "If the Church is strong, the country will be strong; if the church has problems, the country will have problems",he said. He asked those leaders who had retired, among them Bishop Nduwayo, Archbishop Emeritus Bernard Ntahoturi and the former Roman Catholic Archbishop of Bujumbura,to help the churches in Burundi using their experiences and wisdom in church leadership.He also thanked the Worldwide Mothers'Union President, Mrs. Lynne Tembey, who attended the ceremonies, for the contribution of Mothers' Union to the transformation of the lives of women in particular and families in Burundi.
Archbishop Martin Blaise Nyaboho appealed to the new Bishop to pursue the mission that Jesus entrusted to his disciples and that had been entrusted to Bishop Nduwayo when the diocese was established. "You are called to serve the Church of Christ; you now have responsibility for the Anglican family in Burundi", he said and went on to remind Bishop Kimararungu that the Anglican Church of Burundi is also called to contribute to the life and development of the Anglican Communion.