Organized by the Inter-religious Network for the fight against HIV/AIDS, the Church joined other partners to celebrate the World Day against AIDS.
The ceremonies led by the first lady took place in Gitanga in Rutana Province a locality with insufficient health centres. The first lady urged the public health ministry and all partners to double their efforts to support people infected and defend their rights.
In that province local facilitators are trying to do their best to contribute to the fight against HIV. 346 facilitators working in the whole province of Rutana have sensitized more than 200,000 people for volunteer testing; among them 1000 students.
The Anglican Church of Burundi is committed to mobilize and sensitize people to fight against HIV/AIDS and all kinds of discrimination against those who have been infected. The Church also supports the Church health centres by providing equipment and medicines.
Similar ceremonies were held in the diocese of Muyinga. The health department of the diocese has organized a campaign of mobilization for HIV voluntary testing. Around a hundred people have been tested, most of them being students from St Andrew's School, a Church secondary school.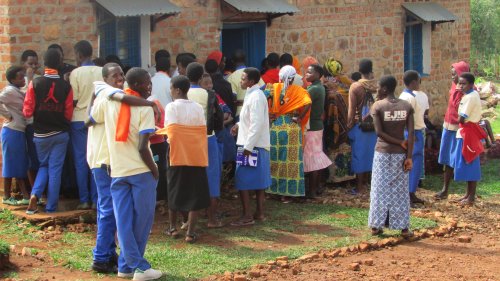 These ceremonies took place at the end of the 16 Days Activism against Gender Based Violence that had been led by Mothers' Union. Concrete actions were called for to improve conditions for women and to fight impunity for the perpetrators of violence. Men were challenged to be effectively involved in the fight as well.