18 Mar 2017 • News
Several hundred people took part in a public procession to show a community's determination to end gender based violence. The event was organized in Rumonge province with a delegation from the Anglican Church of Burundi including the Archbishop, the Most Rev. Martin Blaise Nyaboho, the Rt. Rev Pedaçuli Birakengana, Bishop of Rumonge Diocese, and some members of the Provincial and Diocesan staff attending the ceremonies.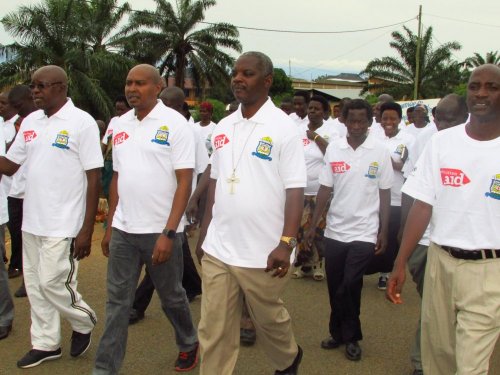 Following the celebration of International Women's Day, women and men along with students of primary and secondary schools participated in a long procession in the town of Rumonge to say "yes" for the rights of women and "no" to discrimination and violence against them.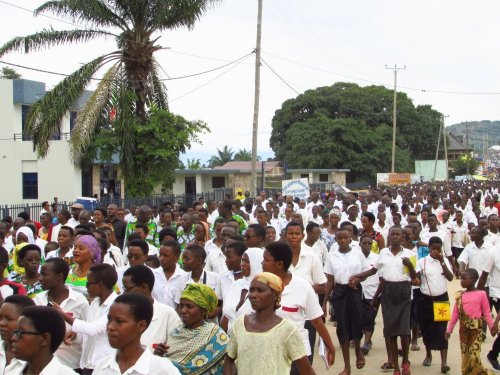 The Country Manager of Christian Aid Burundi and representatives from Care International, the Government and Parliament joined in the activity that was organized to mobilize community members to fight against gender based violence especially violence against women and girls.
Since the end of last year the Anglican Church of Burundi's GBV department has been working with Christian AID on a programme mobilizing people to end violence against women in the community.
For Rev Jeanne Ndimubakunzi, the Provincial GBV Department Coordinator violence happens in communities so the fight should focus on communities first to enable them to be aware of the issue and have a common understanding of why gender based violence must be eradicated.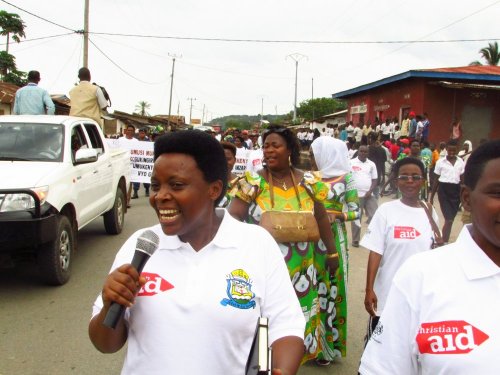 In order to bring change ten persons for each zone in all communes of Rumonge Province have been trained to lead the battle in communities. Their role will be training and mobilizing people against GBV, advocating for and helping victims and ensuring the restoration of their rights.
The Country Manager of Christian Aid Burundi who took part in the event said that women deserve more respect and support regarding the role they play in the family and community. "We cannot expect to develop our society if women are left behind", he said. He thanked the British Embassy that granted funds to help Christian Aid's partners to train and sensitize people to combat gender based violence and build a society with equal rights for men and women.
The Governor of Rumonge and the representative of the Women's Forum both thanked the Anglican Church of Burundi for its role of advocating for women's rights and social justice. "We all know that the Anglican Church is the pioneer in this fight against gender based violence", said the Governor of Rumonge.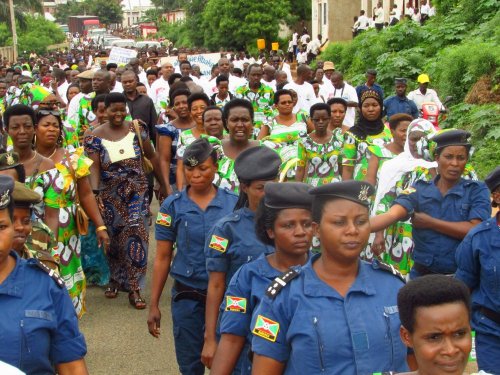 The Most Rev Martin Blaise Nyaboho said that the commitment of the church and all the other partners will certainly produce a positive impact in the fight against GBV. "We are aware of the importance of women in our society. We know what the gender issue is like, but the result we want is a society where men and women will say "Together we are able".