22 Aug 2021 • News
The Most Rev. Sixbert Macumi was officially installed as the 5th Archbishop and Primate of the Anglican Church of Burundi at a service held in Holy Trinity Cathedral, Bujumbura on Saturday 21st August 2021 in the presence of all Bishops of the Province, representatives of other denominations and Christian organizations, and a delegation from the Government of Burundi along with Christians from different Dioceses. During the ceremony Archbishop Macumi received symbols of leadership as an Archbishop, a Bible, a staff and a chair.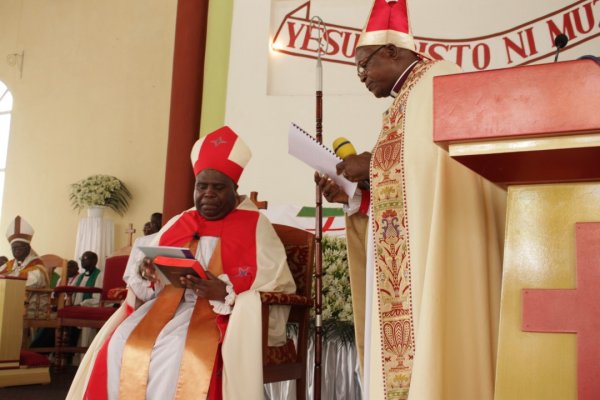 The outgoing Archbishop the Most Rev. Martin Blaise Nyaboho after his 5 years in office highlighted the achievements of the Province of Burundi but stressed that the mission of the Church is not yet finished. He encouraged his successor to carry it on and urged him to serve as a faithful shepherd over the Church as the Body of Christ. Archbishop Martin gave the new Archbishop a glass jug symbolizing that the Church needs to be "handled with care". He referred to the advice given to him by the Archbishop of Canterbury through the Anglican Communion General Secretary when he was installed on 21st August 2016. Archbishop Martin said: "The Church is a treasure and is fragile. Don't break the Church".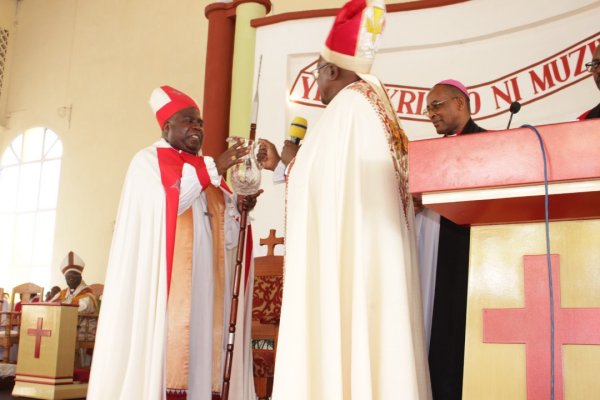 Archbishop Nyaboho thanked God for what has been accomplished in the Anglican Church, in Burundi and at international level. He thanked also his fellow Bishops and the staff of the Provincial Office for their commitment and understanding that had been key to the mission of the Province progressing.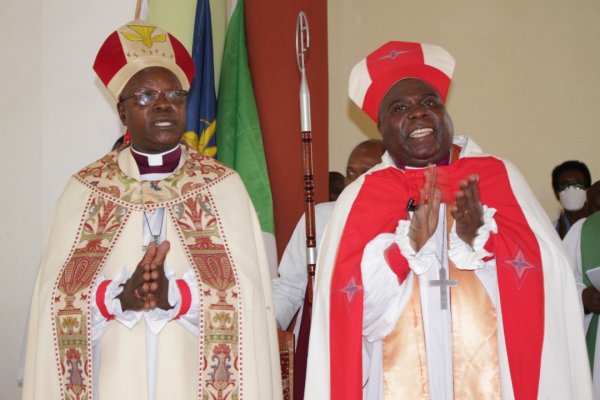 Speaking of his agenda for the next five years of his term in office Archbishop Sixbert Macumi said that he would actively carry out the proclamation of the Good News of Jesus Christ; strengthen unity between Christians; support initiatives aimed at developing communities; work to combat coronavirus by raising awareness of people to the measures recommended for prevention.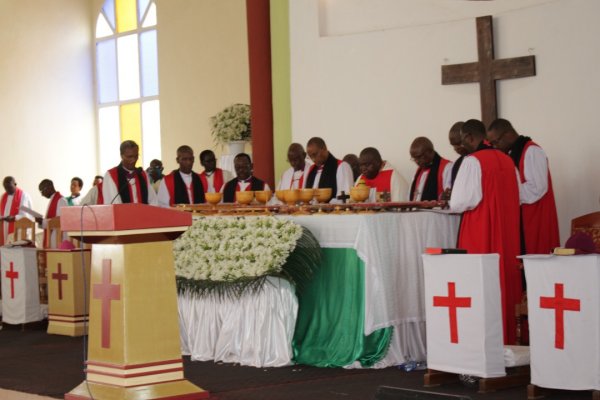 The President of the Senate who represented the Government congratulated the new Archbishop and wished him success in his new ministry. Honorable Emmanuel thanked the Anglican Church of Burundi for its example in leadership and peaceful transition which has been a tradition for the Anglican institution in Burundi. He also presented the appreciation of the Government for the contribution of the Anglican Church in different areas of development.
In his message of congratulation the Archbishop of Canterbury, Justin Welby encouraged Archbishop Macumi and the Church in Burundi to continue to go from strength to strength and to overcome challenges that may need to be faced.