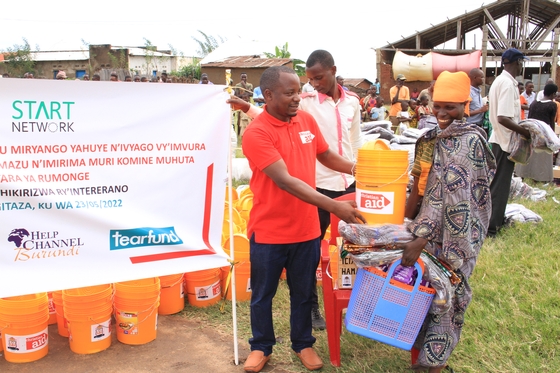 3 Jun 2022 • News
he majority of the population of the Province of Rumonge lives mainly from agricultural activities and small businesses. Those who do not have arable land live on daily incomesfrom work in the fields or from construction sites. Despite these very low incomes, some manage to buy portions of land where they build houses and provide for other family needs. Unfortunately, this rhythm of life is subject to disruption caused by natural disasters that often take the form of heavy rains followed by floods, landslides, anddamaged infrastructure and fields. Very recently, the population of Rumonge was surprised by torrential rain which devastated houses, schools, churches and fields in the communes of Rumonge, particularly the commune of Muhuta, causing thousands of people to be bereft ofhome and livelihood.
Since that time the life of several families has no longer been the same. UWIMANA Estella, a widow and mother of 5 children says, "I had left my home to seek for a daily task in order to gain money to feed the children. When I returned I found my house completely demolished. I couldn't save much except a few belongings picked up by the neighbours".
After that disaster, spontaneous solidarity between the populations was the immediate but certainly short-term solution. Some victims found shelter with neighbours whose houses remained intact. Others were able to benefit from a temporary stay offered by the localChurches. To be able to survive in these conditions the people affected by this disaster shared almost everything including kitchen utensils, clothes, and children's uniforms for school.
A cry of distress reached various national and international partners and the response was quick. By following a clear and transparent approach to identifying and validating the neediest beneficiaries as well as methods of distribution, Christian Aid and TearFund, andtheir respective partners PEAB and Help Chanel were able to organize an immediate response for the most vulnerable people.
The provincial administration of Rumonge praised the promptness of those organizationsand partners of the State of Burundi and particularly the way in which the response was carried out because the people who needed help the most were those who benefited from it.
The delegations of Christian Aid and Tear Fund in collaboration with their partners as well as the administrative authorities urged the beneficiaries of this aid to use it for the good of their families and avoid taking advantage of it to meet non-essential needs.
Samson, one of the people who lost his house, said that he was very happy to have receivedthis assistance, especially the iron-sheets to be able to rebuild his house. He claims to have been at the end of all hope because he had worked hard to have the means to provide his family with a house.
The aid consisting of iron-sheets, clothing, kitchen utensils, hygiene kits and a sum of moneywas granted to more than a thousand households most affected in Muhuta commune.
The province of Rumonge is largely made up of mountainous regions that overlook LakeTanganyika and experience heavy rainfall that often causes damage because the region is very hilly. To reduce the risks, Christian Aid Burundi and the Province of the Anglican Church of Burundi are helping to strengthen the community so that they are able to address the multiple challenges that they face.